Weekly Bulletin – Sept. 17
Posted September 17, 2021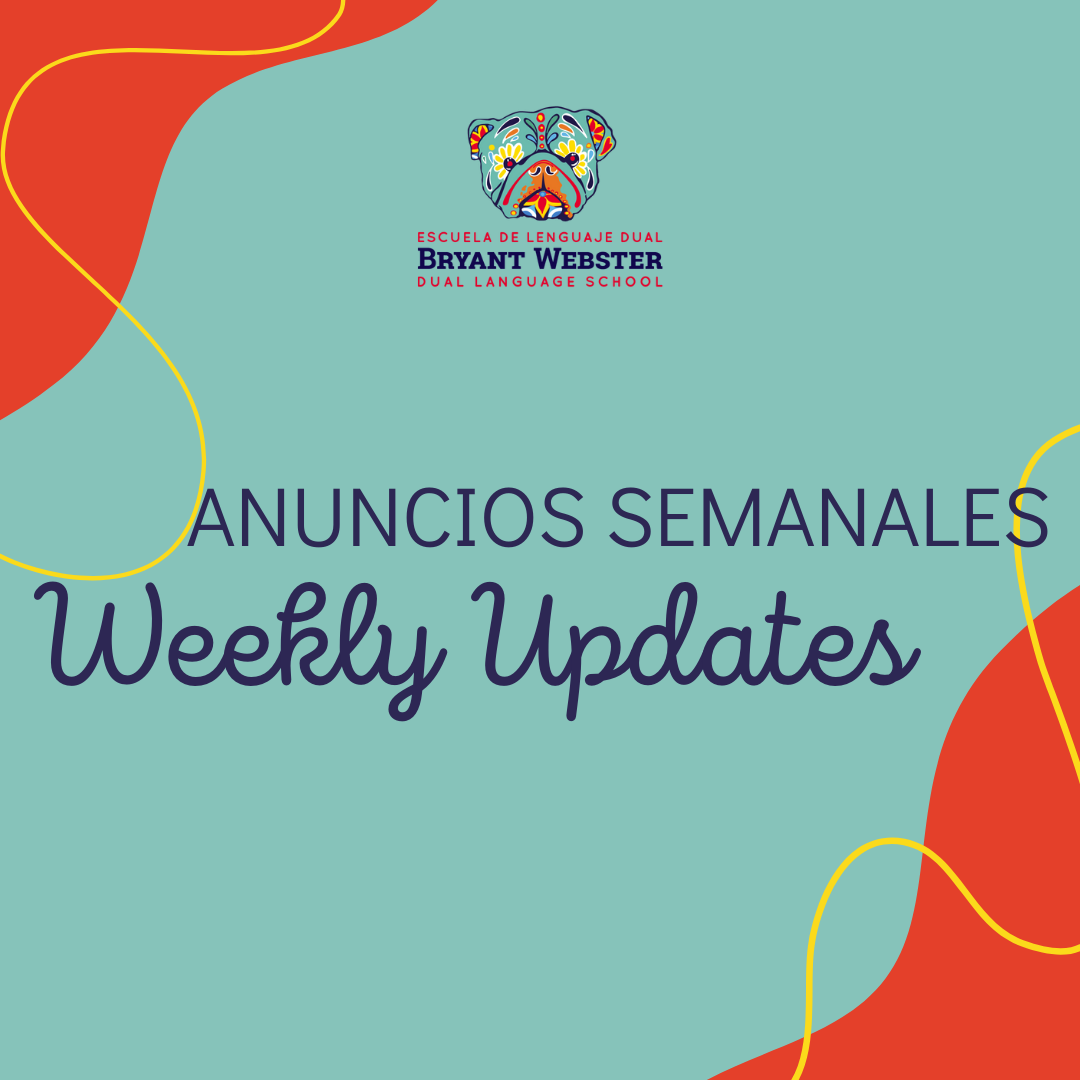 Feliz Viernes BW Bulldogs!
Esperamos que tengan un gran fin de semana. Gracias por su paciencia y su flexibilidad mientras continuamos a navegar la educación en la pandemia. Les continuamos a pedir a los padres que por favor solo entren por la entrada principal y no pasar más allá de la oficina principal. Esto es para poder mantener a todos los estudiantes seguros.
No hay Escuela el 27 de Septiembre – Dia de Planeación
¿Está interesado en ser voluntario o participar en nuestros eventos?
Complete este formulario si desea obtener más información sobre cómo puede convertirse en maestro sustituto con licencia, paraprofesional, o si desea participar en la organización y planificación de nuestros eventos comunitarios y familiares.
Tiktok
En estos días, muchos estudiantes interactúan en línea con plataformas de redes sociales. Compartimos información con los padres de los estudiantes de séptimo y octavo grado sobre cómo recientemente un desafío de TikTok llamado el desafío de "School Lick" ha tenido un impacto en nuestra comunidad y en las comunidades escolares de todo el país. ¿Están sus alumnos en TikTok? Hábleles sobre los beneficios y desafíos de esta plataforma. El octavo grado tuvo una conversación sobre desafíos divertidos y seguros, así como desafíos que no son apropiados o seguros. ¡Pregúnteles a sus estudiantes de octavo grado qué se les ocurrió!
Denver Housing Authority's Section 8 ( Autoridad de Vivienda de Denver)
El sistema de lotería de la Sección 8 de la Autoridad de Vivienda de Denver abre el jueves (16/9) y el viernes (17/9) para que las familias o las personas lo soliciten. Esto solo está abierto una vez al año durante estos dos días. Las familias o las personas pueden presentar una solicitud por su cuenta en su sitio web: http://www.denverhousing.org/LWU/section8/Pages/default.aspx
Campamento de Baloncesto North Vikings
Para niñas y niños de 3.° a 8. ° grado
¡GRATIS!
15-16 de octubre en North High | Viernes de 6 a 8 pm; Sábado 12- 2 pm
Trabaje con el entrenador Hopkins y el entrenador Hypolite: ¡Mejore Sus Habilidades!
Haga clic aquí para registrarse hoy – cupo limitado
¿Preguntas? Comuníquese con el entrenador Hopkins al 303-956-5295
Enlace de registro:
Evento de vacunación en BW 3-6PM | 13 de octubre de 2021
Por favor reserve la fecha para el Festival de Otoño Bryant Webster. Habrá juegos, comida, calabazas y actividades de manualidades. Una reunión para los miembros de la familia interesados ​​en ayudar a planificar el evento se llevará a cabo el jueves 23 de septiembre después de la escuela en el patio de recreo y más tarde esa noche en zoom para aquellos que no puedan asistir en persona. El enlace de Zoom se enviará pronto.
Colaboraremos con la Clínica Móvil de Vacunas de Denver Health para proporcionar información sobre vacunas y vacunas a los miembros de la comunidad.
Los invitamos a convertirse en miembro de la PTA
Convertirse en miembro no lo obliga a ser voluntario, pero nos ayuda a continuar con nuestro trabajo de apoyo a la comunidad de BW. Sus cuotas de membresía ayudan con los costos generales, como el pago del seguro y los costos de impresión. Considere convertirse en miembro.
https://bryantwebster.memberhub.com/store?category=Memberships
¡Bienvenida a BW, Ms. Cassandra Rodriguez!
Hola, mi nombre es Cassandra Rodríguez y seré la enfermera de la escuela, 1 día a la semana. Soy nueva en el maravilloso mundo de la enfermería escolar, pero he sido enfermera durante casi 5 años en el ámbito hospitalario. Trabajé en el Hospital St. Anthony en Lakewood en la UCI de Neuro / trauma y fui la enfermera a cargo en la Unidad de Recuperación Post Anestesia. Soy nativa de Colorado y no tengo ninguna intención de dejar nuestro hermoso estado. Mi esposo es enfermero educador y tengo una hija, Olivia, que acaba de cumplir 1 año. ¡Estoy muy emocionada de unirme a su equipo y no puedo esperar para conocerlos a todos!
---
Hello, amazing BW Bulldogs!
Happy Friday. We hope you have a great weekend. Thank you for your patience and flexibility as we continue to navigate this pandemic education experience. We continue to ask parents to exclusively enter the building through the main entrance, and to only go as far as the main office. This is for the safety of all of our students.
No School Sep 27, 2021 – Planning Day
Are you interested in volunteering or participating in our events?
Fill out this form if you would like more information on how to become a licensed substitute teacher, a paraprofessional, or would like to participate in setting up and planning our community and family events.
TikTok
These days many students are engaging online with social media platforms. We shared information with 7th and 8th grade parents about how recently a TikTok challenge called the "school lick" challenge has been impacting our community, and school communities across the nation. Are your students on TikTok? Please talk to them about the benefits and challenges of this platform. 8th grade started brainstorming fun and safe challenges as well as challenges that aren't appropriate or safe–ask your 8th graders what they came up with!

Denver Housing Authority's Section 8
Denver Housing Authority's Section 8 Lottery system is opening Thursday (9/16) and Friday (9/17) for families or individuals to apply. This is only open once per year during these two days. Family's or individuals can apply on their own at their website:
http://www.denverhousing.org/LWU/section8/Pages/default.aspx
North Vikings Basketball Camp
For Girls and Boys in 3rd – 8th Grades
FREE!
October 15-16 at North High | Friday 6-8 pm; Saturday Noon – 2 pm
Work with Coach Hopkins and Coach Hypolite – Improve your skills!
Click here to register today – limited spots available
Questions? Contact Coach Hopkins at 303-956-5295
Registration link
Vaccine Event at BW 3-6PM  | October 13, 2021
Please save the date for the Bryant Webster Fall Festival. There will  be games, food, pumpkins, and craft activities. A meeting for family members interested in helping to plan the event will take place on Thursday, September 23rd after school on the playground and later that evening on zoom for those who can not attend in person. Zoom link will be sent out soon.
We will collaborate with Denver Health's Mobile Vaccine Clinic to provide vaccine information and vaccines to community members.
Join the Parent Teacher Association (PTA)
We invite you to become a PTA member. Becoming a member does not rope you into volunteering, but it does assist us continuing our work of supporting the BW community. Your membership dues help with overhead costs like paying insurance and printing costs. Please consider becoming a member. https://bryantwebster.memberhub.com/store?category=Memberships
Welcome to BW Ms. Cassandra Rodriguez !
Hi, my name is Cassandra Rodriguez and I will be the school nurse 1 day a week. I am new to the wonderful world of school nursing but have been a nurse for almost 5 years in the hospital setting. I worked at St. Anthony's Hospital in Lakewood in the Neuro/trauma ICU and was the charge nurse in the Post Anesthesia Recovery Unit. I am a Colorado Native and have no intention of ever leaving our beautiful state. My husband is a nurse educator and I have a daughter, Olivia, who just turned 1. I am very excited to join your team and can't wait to meet all of you!