Weekly Updates – Nov 18
Posted November 18, 2021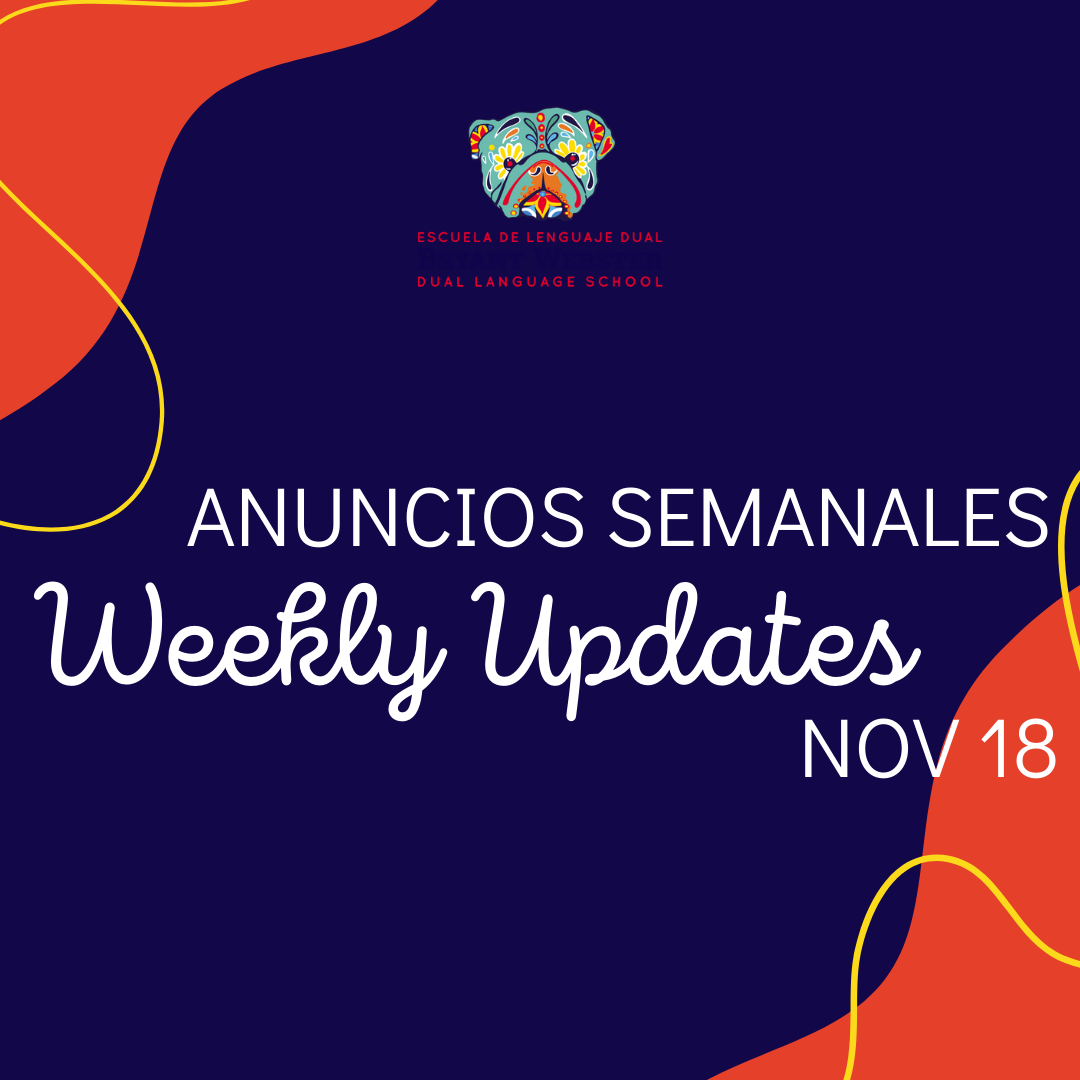 Estimadas familias de Bryant Webster,
¡Le deseamos unas vacaciones seguras, tranquilas y felices la próxima semana! En un espíritu de gratitud, queríamos agradecerle por todas las formas en que apoya a nuestros estudiantes, personal y escuela. Gracias por el trabajo en equipo con los maestros en apoyo del aprendizaje de su hijo. Gracias al PTA y a los voluntarios por regalarnos su tiempo, comida y amabilidad. Este año ha sido diferente a cualquier otro, nuevamente, y el agradecimiento por la conexión, los comentarios y el apoyo de nuestra comunidad no puede ser subestimado. ¡Estamos agradecidos!
Además, en honor al mes de la herencia nativa americana, consulte el Reconocimiento de tierras actualizado de DPS atado aquí y pegado a continuación. Nos sentimos honrados de hacer una pausa y reflexionar sobre la importancia de la herencia de la tierra en la que Bryant Webster se encuentra ahora, y las personas que vivieron aquí primero.
Reconociendo los compromisos de DPS de "Conocer la justicia, conocer la paz", nosotros, la comunidad educativa de DPS, colocamos nuestras mentes y cuerpos en este espacio mientras reconocemos a los parientes indígenas que han vivido y cuidado esta antigua Tierra desde tiempos inmemoriales. Reconocemos la estrecha relación que Arapahoe, Cheyenne, Southern Ute y Ute Mountain Ute y los nativos de otras naciones tribales continúan teniendo con las aguas, las plantas y todas las cosas en movimiento que llaman hogar a esta Tierra. Prometemos nuestro respeto por esas conexiones indígenas duraderas con el lugar que ahora llamamos Colorado.
FECHAS Y EVENTOS IMPORTANTES DEL MES
19 de noviembre: DPS CANCELÓ CLASES
22-26 de noviembre: Vacaciones de otoño – No hay clases
29 de noviembre: Día de Planificación de BW – No hay clases
9 de diciembre: Reunión del Cordón de Alfabetización Bilingüe
¡Las calificaciones ya están disponibles a través del Portal de Padres! 
Si bien los estudiantes recibieron comentarios por escrito de los maestros el año pasado, esta es la primera vez que nuestros estudiantes en los grados K-5 tendrán calificaciones numéricas en casi 21 meses (!). Las calificaciones están disponibles el 18 de noviembre y se pueden ver en el Portal para Padres. ¿Desea una boleta de calificaciones en papel? Por favor, envíe un correo electrónico a sus maestros de salón y/o Sharlene Montalvo o Norma Chip (sharlene_montalvo@dpsk12.org, norma_chip@dpsk12.org)
Vea el siguiente video para más información sobre cómo iniciar sesión en el Portal para padres
Video en Español | PDF en Español
Actualización de COVID
Como probablemente ya sepan, Colorado está experimentando un número creciente de casos de COVID este mes, y Bryant Webster no es una excepción.  En caso de que se lo haya perdido, tuvimos casos positivos de COVID en las últimas dos semanas, y seguimos los protocolos de cuarentena y comunicación.  Siempre que haya un caso de COVID positivo en el edificio, enviaremos una carta general a todas las familias.  Cualquiera que pudiera haber sido un contacto cercano recibirá comunicación directa.  Siempre estamos disponibles para responder a cualquier pregunta. 
Recaudación Fondos para un Estudiante
"Únase a nosotros para apoyar a un estudiante de Bryant Webster, Adrian, que ejemplifica la B en Bravo con su valiente lucha contra el cáncer!  Solicite una camiseta del 'equipo Adrian' y seleccione "enviar a Anna Diaz" para envío gratis a la escuela" www.customink.com/fundraising/TeamAdrianDenver
Asociación de padres y maestros (PTA)
Los invitamos a convertirse en un miembro del PTA. Convertirse en miembro no lo obliga a ser voluntario, pero nos ayuda a continuar con nuestro trabajo de apoyo a la comunidad de BW. Sus cuotas de membresía ayudan con los costos generales como apreciación de los maestros, el pago de seguro y los costos de impresión. Considere convertirse en miembro. https://bryantwebster.memberhub.com/store
Secundaria de Bryant Webster
Hola, padres de la escuela secundaria!  Lo crea o no, la preparatoria está a la vuelta de la esquina para su estudiante.  Unase a la consejera escolar de BW, Chelsea Ammons, y a los oradores invitados durante todo el año para obtener respuestas a sus preguntas sobre las opciones de la escuela secundaria, la elección de la escuela, el hilo de la alfabetización bilingüe y mucho más.  Nuestra tercera reunión se llevará a cabo en Zoom a las 5:30 pm el jueves 9 de diciembre, donde discutiremos el Cordón de Alfabetización Bilingüe.  Siga este enlace para unirse a la reunión:  https://bit.ly/39ik7U4 
Objetos Perdidos
Tenemos MUCHAS chamarras, sudaderas, botellas de agua, etcétera que están en nuestros objetos perdidos, en la oficina, igual que en los casilleros afuera de la oficina. Por favor, venga a revisar para ver si algo pertenece a su estudiante.  Estaremos donando todos los artículos que no sean recogidos antes del 10 de diciembre.
NOTICIAS DE LA COMUNIDAD

Clínica de fútbol fuera de la escuela para jóvenes de 5 a 14 años
Esta clínica se centra en el desarrollo todo el jugador:Habilidades ofensivas

Técnicas defensivas
Fundamentos del portero
La historia del fútbol en América Latina
Si estás interesado en aprender más sobre la clínica de fútbol haz clic en este Folleto
¡Los Colorado Rapids son los mejores del Oeste y se dirigen a las Eliminatorias de la Copa MLS como # 1 en la Conferencia Oeste!

¡Traigamos la Copa de vuelta a Colorado, juntos!
CONSIGUE TUS BOLETOS PARA LAS ELIMINATORIAS DE RAPIDS HOY MISMO
Recursos comunitarios estacionalesLista de organizaciones comunitarias que brindarán ayuda con las comidas durante el mes de noviembre. Se requieren registros por condado. Para obtener más información, haga clic en el siguiente Folletos informativos: Inglés – Español
---
Dear Bryant Webster Families,
Wishing you a safe, restful, and happy vacation this coming week! In the spirit of gratitude we wanted to say THANK YOU for all the ways you support our students, staff and school. Thanks for the team work with teachers in support of your child's learning. Thanks to PTA and volunteers for the gifts of time, food, and kindness. This year has been unlike any other, again, and the appreciation for our community connection, feedback, and support cannot be understated. We are grateful for you!
Also, in honor of Native American Heritage month, please see DPS's updated Land Acknowledgement linked here and pasted below. We are honored to pause and reflect on the importance of the heritage of the land that Bryant Webster now sits on, and the people who lived here first.
Recognizing DPS commitments to "Know Justice, Know Peace," we, the DPS educational community, place our minds and bodies in this space while acknowledging Indigenous relatives who have lived in and cared for this ancient Land from time immemorial. We acknowledge the close relationship that Arapahoe, Cheyenne, Southern Ute and Ute Mountain Ute and Natives of other tribal Nations continue to have with the waters, plants, and all moving things that call this Land home. We pledge our respect for those enduring Indigenous connections to the place we now call Colorado.
IMPORTANT MONTH DATES & EVENTS
Nov 19th: DPS CANCELLED SCHOOL
Nov 22-26: Fall Vacations – No School
Nov 29th: BW Planning Day – No School
Dec 9th: Biliteracy Cord Meeting
Grades are now available through Parent Portal!  
While students received written feedback from teachers last year, this is the first time that our students in grades K-5 will have numeric grades in nearly 21 months (!). Grades are available by November 18 and can be viewed on Parent Portal. Would you like a paper report card? Please email your classroom teachers and/or Sharlene Montalvo or Norma Chip (sharlene_montalvo@dpsk12.org, norma_chip@dpsk12.org) 
Watch this video for more information about how to log in to Parent Portal
English Video | English PDF
COVID Updates
As you may have seen in the news, Colorado is experiencing a rising number of COVID cases this month, and Bryant-Webster is no exception. In case you missed it, we had positive COVID cases over the last two weeks, and followed protocols for quarantines and communication. Whenever there is a positive COVID case in the building, we will send a general letter to all families. Anyone who could have been a close contact will receive direct communication. We are always available to respond to any questions. 
Student Fundraiser
"Join us to support a Bryant Webster student, Adrian, who exemplifies the B in Bravo with his brave fight against cancer! Order Team Adrian T-shirt's and select "ship to Anna Diaz" for free shipping to the school"  www.customink.com/fundraising/TeamAdrianDenver"
Parent Teacher Association (PTA)
We invite you to become a PTA member. Becoming a member does not rope you into volunteering, but it does assist us continuing our work of supporting the BW community. Your membership dues help with costs like Teacher Appreciation, paying insurance, and printing costs. Please consider becoming a member. 
https://bryantwebster.memberhub.com/store
BW Middle School
Hello Middle School parents! Believe it or not, High School is right around the corner for your student. Join BW School Counselor Chelsea Ammons and guest speakers throughout the year to get answers to your questions about high school options, school choice, the cord of biliteracy, and much more. Our third meeting will be held over Zoom at 5:30 pm on Thursday, December 9 where we will be discussing the Cord of Biliteracy. Please follow this link to join the meeting: https://bit.ly/39ik7U4 
Lost and Found
We have a LOT of jackets, coats, water bottles, ect., in our lost and found here in the office, as well as outside the office in the lockers.  Please come take a look to see if anything belongs to your student.  We will be donating all items that are left after December 10th.
COMMUNITY NEWS
Out-of-School Soccer Clinic For youth 5-14 years old. This clinic focuses on developing the whole player:
Offensive Skills
Defensive Techniques
Goalkeeper Fundamentals
The history of soccer in Latin America
If you are interested in learning more about the soccer clinic click on this Flyer
The Colorado Rapids are the Best in the West and Heading into the MLS Cup Playoffs as #1 Seed in the Western Conference!

Let's Bring the Cup back to Colorado, together!
GET YOUR RAPIDS PLAYOFF TICKETS TODAY
Seasonal Community ResourcesCommunity organizations that will be providing help with meals during the month of November. Registrations are required per County. For more information click in the following Informational Flyers:English – Spanish