Weekly Bulletin- Dec. 17
Posted December 17, 2021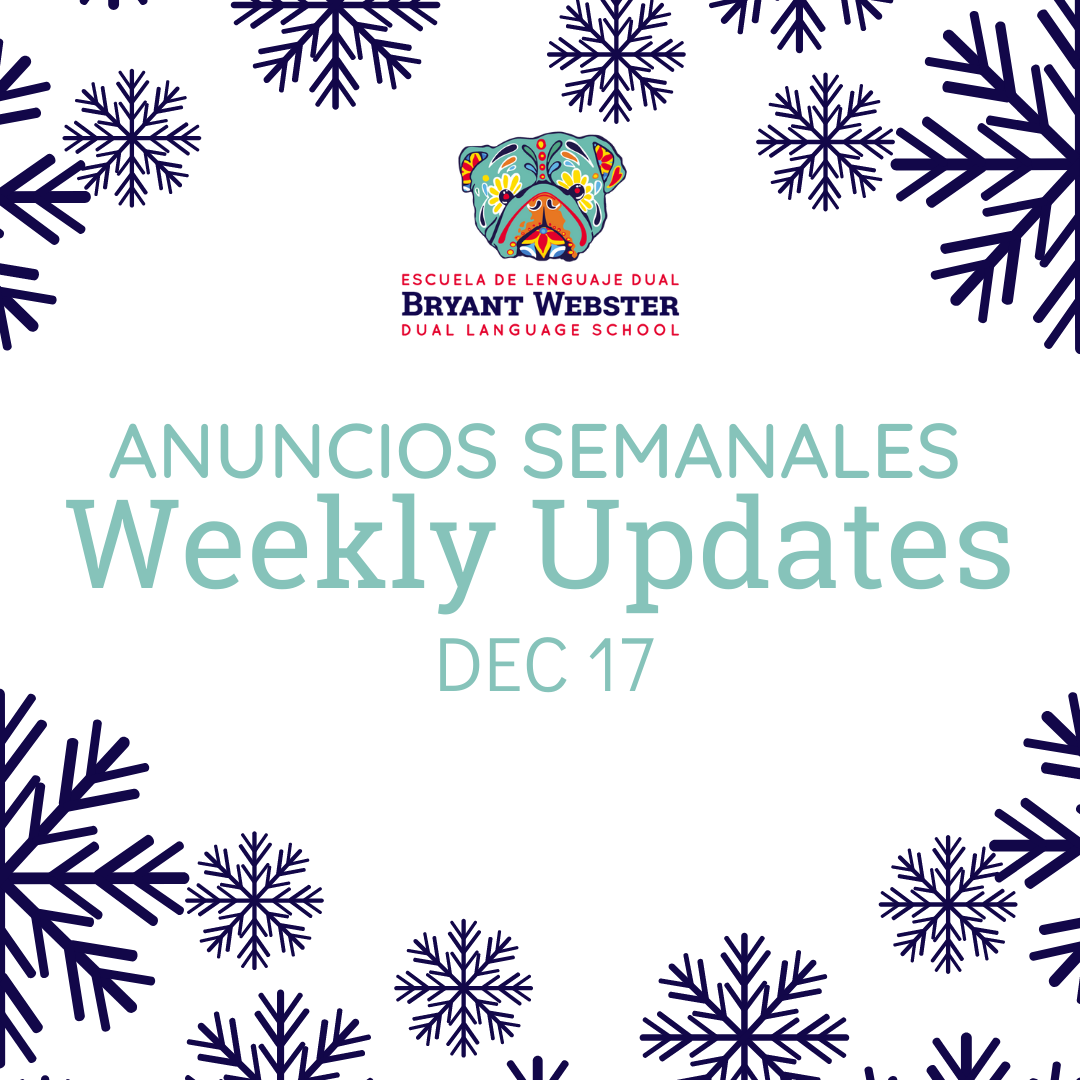 FECHAS Y EVENTOS IMPORTANTES DEL MES
20 al 31 de diciembre: Vacaciones de invierno
3 de enero: Planificación de maestros – No hay Clases
5 de enero: Reunión de CSC a las 4:30pm
Rumores de Tik Tok, declaración de DPS
Estimadas familias Bryant Webster,
Anoche DPS envió comunicación a todas nuestras familias sobre el "desafío" que está circulando en las redes sociales. En este momento Bryant Webster no tiene ninguna información adicional que agregar con respecto a las fuentes no probadas de esta amenaza. Definitivamente estamos alertas y listos para seguir nuestra guía de liderazgo del distrito en caso de que las cosas cambien o surja nueva información. Por favor, hágamelo saber si tiene alguna pregunta o inquietud adicional. Si no recibió nada, llame a nuestra oficina principal para que podamos actualizar su correo electrónico u otra información de contacto.
Consulte el mensaje original de DPS a continuación:
16 de diciembre de 2021
Familias de las Escuelas Públicas de Denver:
Les escribimos para informarles sobre un "reto" que está circulando por las redes sociales. Nos hemos enterado de este "reto" como una amenaza general de carácter anónimo que está circulando en la plataforma social TikTok. La amenaza es contra todas las escuelas e identifica el viernes, 17 de diciembre de 2021 como "día nacional del tiroteo escolar".
Les aseguramos que las Escuelas Públicas de Denver están trabajando con las autoridades para evaluar la amenaza. Tomamos todas las amenazas muy seriamente y trabajamos estrechamente con el Departamento de Policía de Denver para revisar e investigar todas las amenazas a nuestras escuelas, y luego determinamos la mejor forma de actuar que debe adoptar la comunidad escolar.
Los agentes policiales estatales y locales han investigado esta amenaza en TikTok. No se ha hallado ninguna conexión con las Escuelas Públicas de Denver y se ha determinado que la amenaza no es creíble.
No obstante y como medida adicional de precaución, los oficiales del Distrito y los líderes escolares de las Escuelas Públicas de Denver siguen trabajando con la policía de Denver y con el Departamento de Seguridad de DPS para garantizar la seguridad de todos nuestros estudiantes y del personal.
También quisiéramos aprovechar esta ocasión para recomendarles que, si ven o escuchan algo relacionado con la seguridad, compartan esta información con los oficiales escolares, no a través de las redes sociales, lo antes posible. También pueden reportar información o inquietudes de seguridad de forma anónima mediante el programa Safe2Tell en su sitio web (safe2tell.org) o llamando al 1-877-542-7233.
La seguridad y el bienestar de nuestro personal, estudiantes y la comunidad son nuestra máxima prioridad y apreciamos su alianza para garantizar la seguridad de todos.
Deseo agradecer su apoyo y paciencia durante estos momentos.
Intención de Regresar a Bryant Webster
Cada año planificamos el presupuesto escolar del próximo año en función de las proyecciones del distrito de números de estudiantes. Como una forma de verificar que sus proyecciones coincidan con las necesidades de nuestra comunidad, estamos pidiendo a todas las familias que completen esta encuesta. Por favor, llene una encuesta por cada estudiante inscrito en BW para hacernos saber si planea regresar. ¡Gracias!
Reunión de CSC (Comité Escolar Colaborativo)
¡El CSC está reclutando un nuevo miembro! Específicamente, esperamos encontrar un padre de 6º a 8º grado (escuela secundaria) que hable español o sea bilingüe en español/inglés. Cualquier persona es bienvenida a nominarse a sí misma o a otros.
Por favor, complete esta encuesta si está interesado en ser, o está interesado en nominar a alguien para ser, un candidato para el Comité Escolar Colaborativo (CSC). ¡Puedes ver más al respecto, a continuación!
A partir de ahora tenemos un padre interesado, si tenemos dos o más celebraremos una votación.
Nos comunicaremos con todos los nominados para confirmar que estarían dispuestos a asistir a todas las reuniones de CSC y para obtener una breve biografía para el formulario de votación.
Nuestro Comité Escolar Colaborativo (CSC) se reúne al menos una vez al mes, y es la junta de responsabilidad de nuestra escuela. Este comité estatal obligatorio publica las actas públicamente, y todas las reuniones están abiertas al público. ¡Echa un vistazo a las notas y actas, y únete a nosotros si puedes!
Fechas de Junta | Meeting Dates
| | |
| --- | --- |
| 12/8/21 | 1/26/22 |
| 1/5/22 | 2/9/22 |
| 1/12/22 | 3/9/22 |
| 12/8/21 | 4/13/22 |
| 1/19/22 | 5/11/22 |
| 1/26/22 | |
Enlace para Acceder a la Junta | Meeting Access Link
Time: 4:30 pm
Zoom Link: https://us02web.zoom.us/j/7407215842?pwd=RENmSUYySmk1QmdSZFBwVjdBcDVDZz09
---
IMPORTANT MONTH DATES & EVENTS
December 20 – 31: Winter Vacations
January 3: Teacher's Planning Day – No School for Students
January 5: CSC Meeting at 4:30pm
Tik Tok Rumors, DPS Statement
Dear Bryant webster families,
Last night DPS sent communication to all of our families regarding the "challenge" that is circulating on social media. At this moment Bryant Webster does not have any additional information to add regarding the unproven sources of this threat. We are definitely alert and ready to follow our district leadership guidance in case things change or new information arises. Please let me know if you have any additional questions or concerns. If you didn't receive anything, please call our main office so we can update your email or other contact information.
Please see the original message from DPS below:
Dec. 16, 2021
Denver Public Schools Families,
We are writing to let you know about a "challenge" that is circulating on social media. We have been made aware that this "challenge" is an anonymous general threat that is circulating on the social media platform TikTok. The threat is against all schools identifying Friday, December 17, 2021, as "National School Shooting Day".
Please be assured that Denver Public Schools is working with law enforcement agencies to assess this threat. We take every threat seriously and work closely with the Denver Police Department to review and investigate all threats to our schools, and then determine the best course of action to take for the school community.
State and local law enforcement officers have investigated this threat on TikTok. They did not find any specific links to Denver Public Schools and have determined the threat is not credible.
Nonetheless, and, as an added precaution, district officials and school leaders across DPS are continuing to work with Denver police and the DPS Dept. of Safety to ensure that all of our students and staff are safe.
We would like to take this time to also encourage you to, if you hear or see something that is a safety concern, share that information with school officials, not on social media, as soon as possible. You can also report information or share concerns anonymously through the Safe2Tell program at its website (safe2tell.org) or by calling 1-877-542-7233.
The safety and well-being of staff, students, and the community are our highest priority, and we appreciate your partnership in keeping everyone safe.
Thank you for your understanding and patience during this time.
Intent to Return
Every year we plan for the next year's school budget based on district projections of student numbers. As a way of checking that their projections match our community's needs, we are asking all families to fill out this survey. Please fill it out once for each BW student to let us know if you plan to return. Thank you!
CSC
The CSC is recruiting a new member! Specifically, we are hoping to find a 6th-8th grade (middle school) parent who speaks Spanish or is bilingual in Spanish/English. Anyone is welcome to nominate themselves or others.
Please fill out this survey if you are interested in being, or interested in nominating someone to be, a candidate for the Collaborative School Committee (CSC). You can see more about it, below!
As of now we have one interested parent, if we have two or more we will hold a vote.
We will contact all nominees to confirm they would be willing to attend all CSC meetings, and to get a brief biography for the voting form.
Our Collaborative School Committee (CSC) meets at least monthly, and is the accountability board for our school. This state mandated committee posts minutes publicly, and all meetings are open to the public. Check out the notes and minutes, and join us if you can!
Fechas de Junta | Meeting Dates
| | |
| --- | --- |
| 12/8/21 | 1/26/22 |
| 1/5/22 | 2/9/22 |
| 1/12/22 | 3/9/22 |
| 12/8/21 | 4/13/22 |
| 1/19/22 | 5/11/22 |
| 1/26/22 | |
Enlace para Acceder a la Junta | Meeting Access Link
Time: 4:30 pm
Zoom Link: https://us02web.zoom.us/j/7407215842?pwd=RENmSUYySmk1QmdSZFBwVjdBcDVDZz09